Offset and digital printing are two high-quality printing methods used in various professional and commercial printing applications. At All Color Printers, we use these printing methods to achieve crisp, clean prints on a variety of media. Our extensive experience allows us to accommodate a range of printing applications, from commercial and financial formats to cosmetic, pharmaceutical, and nutraceutical products.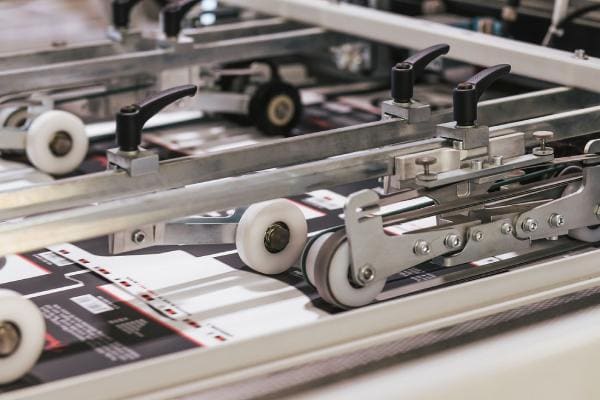 Range of Offset Printing & Digital Printing Services
To support our diverse customer base, we offer the following printing options:
Offset printing:

Offset printing is best suited for large-volume jobs and can print virtually any material. Common applications include:

Reports

Catalogs

Magazines

Posters

Books

Folding cartons
Digital printing:

Digital printing is preferred for on-demand requests, short-run printing, or jobs that require print-to-print adjustments. Common applications include:

Business cards

Brochures

Custom labels
Our Printing Process
With both offset and digital printing equipment available, we perform low- and high-volume printing using several substrates. Our offset printing press handles a range of substrate sizes, giving our customers more flexibility when it comes to printing larger items. We also perform both full and spot color printing depending on the desired visual effect. Once printed, the product can then be further customized for its end use through binding, trimming, folding, or adding protective coatings.  
Our facility is equipped with two state-of-the-art Heidelberg XL106 offset presses, allowing for:
High production speeds:

Our offset presses ensure consistent print quality while maintaining production speeds of 18,000 sheets per hour.

Lower costs:

Parallel makeready processes maximize productivity while intelligent automation ensures an efficient and cost-effective operation.
For smaller runs or time-sensitive requests, we also maintain seven high-speed digital presses that provide limitless customization options and quick job completion.
Advantages of Offset Printing & Digital Printing
Offset and digital printing methods each offer specific advantages that make them best suited for certain printing tasks or production volumes.
Offset Printing
Ideal for large projects:

For large-volume commercial printing applications, offset printing is the most cost-effective option.

Substrate and color versatility:

Offset printing provides high-quality results with nearly all paper, regardless of the size, finish, or thickness. It also offers the largest selection of colors, from metallics to Pantone® inks.

Long print plate life:

Compared with direct lithography techniques, offset print plates last longer since direct contact between the plate and printing surface is eliminated. With proper maintenance and ink usage, a plate can produce over a million prints. Modern technology also makes print plate creation relatively fast and simple.

Simple print adjustments:

With offset printing, the amount of ink applied to the roller can be increased or decreased with adjustable screw keys. Today's offset printing machines feature electronically operated screw keys that are controlled by the printer, allowing for easier adjustments with much more precision.
Digital Printing
Ideal for small projects:

Digital printing is the most affordable and efficient method for on-demand or small-volume printing.

Quick turnaround:

By directly printing the image to the medium, digital printing streamlines the printing process and significantly reduces turnaround times.

Greater personalization options:

Digital printing is entirely customizable, making it better suited for personalized jobs that require frequent print-to-print variable data or color adjustments.
Frequently Asked Questions
What is offset printing?

Offset printing 'offsets' or transfers the inked image from a custom laser-engraved metal plate to a rubber blanket roller. The image is then rolled onto the printing media.

What is digital printing?

Similar to a personal toner-based desktop printer, digital printing directly prints the digital-based image to the printing media. This eliminates the need for printing plates, making it a quicker and more affordable option for small-run printing jobs.

How do offset and digital printing differ?

Although the setup process for offset printing is more time-consuming than that of digital printing, it provides high-quality results and is much more cost-effective for printing large volumes. Digital printing enables quick, direct printing with no intermediate steps, but it tends to be expensive for high-volume orders.  

What can offset printing be used for?

Offset printing presses can be used to print almost any substrate. Examples include:

Magazines

Brochures

Sell sheets

Journals

Books

Folding Cartons

Retail Packaging

Is offset printing better quality than digital?

Offset printing excels when it comes to print quality and color accuracy. However, digital printing is still better suited for smaller projects or those requiring personalized prints within a single print job.  
Offset and Digital Printing Services at All Color Printers
From small, personalized jobs to mass-production printing, All Color Printers has the expertise and equipment selection to fulfill your print requests quickly and affordably. Our G7 Master status demonstrates our ability to provide consistent, flawless results that promote and reinforce trust in your brand or product.
To learn more about our printing capabilities, contact us or request a quote.